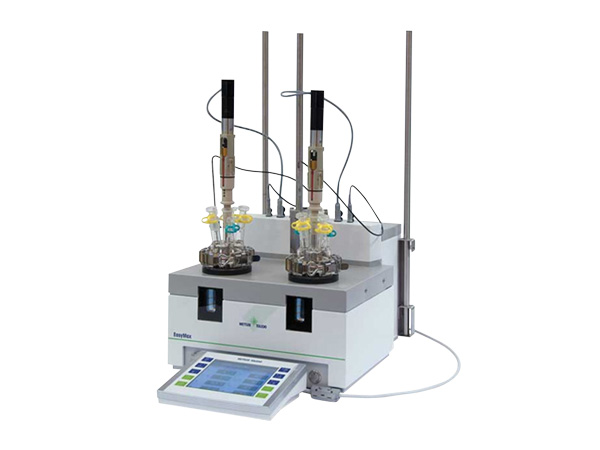 Reactor Systems for chemical synthesis
Replace Round Bottom Flasks and Jacketed Lab reactors

       Replace round bottom flasks, jacketed glass reactors, ice baths, oil baths and chillers with intuitive EasyMax and OptiMax synthesis reactor systems. The innovative heating and cooling technique precisely controls and maintains reaction temperature to avoid impurities and ensure a consistent process development. The lab reactor platforms are operated by a touchscreen, and record all data throughout the course of the experiment so researchers can make more informed decisions. The ability to run unattended 24/7 safely facilitates scientists to develop innovative chemistry faster.

EasyMax 102 Advanced Synthesis Workstation
Successful Chemical Development and Process Optimization

       The EasyMax 102 Advanced synthesis workstation allows chemists and engineers to develop and optimize new synthetic routes, increase the speed of development and reduce cost. The EasyMax 102 Advanced delivers high quality data and provides key information throughout the course of an experiment. This workstation replaces round bottom flasks and jacketed lab reactors with working volumes between 0.5 ml - 100 ml.
Versatile, Accurate, User-Friendly
        The compact solid-state thermostat covers a temperature range from -40 °C to 180 °C and does not require cumbersome oil or ice baths, or bulky cryostats. Precise control allows chemists and engineers to control reaction parameters such as temperature, pH, stirrer rpm, or reagent addition.  All data is captured for evaluation or report preparation.

Unmatched Flexibility
       Changing reactor setup is fast and effortless. Interchangeable sleeves and a variety of reactors provide flexibility to synthesize, optimize, and characterize chemistry at volumes between 0.5 ml and 100 ml. Running multiple reactions simultaneously is as easy as running a single reaction and the variety of stirrers ensures mixing is ideal at all times.

One-Touch Control
       EasyMax is operated with an intuitive touchscreen. Changing reaction parameters is simple, data and trends are displayed on the screen instantaneously and a sequence of consecutive tasks can be easily programmed for 24 hour unattended operation. If desired, the EasyMax can also be operated by the PC based intuitive and powerful iControl software.

Information and Data Management
       During the course of an experiment, all events and data are automatically recorded. Events and data can be subsequently processed or evaluated further, exported into other applications or converted into a report. With iC Data Center, all events and data will be captured, evaluated, shared among others and a report generated - without any further user interaction.