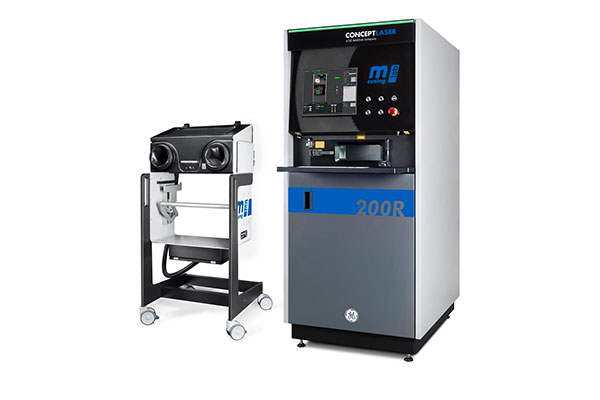 Mlab 200R
LASER METAL 3D PRINTING EFFICIENCY FOR HIGH SURFACE QUALITY PARTS
"The Mlab 200R is perfectly suited for high-surface quality and creating the finest part structures. In addition, this machine allows you to manufacture large parts with much greater productivity—without the machine losing any of its familiar compactness."
The Mlab 200R boasts a new user-oriented design, with a larger build envelope (54% more build volume), a higher laser power of 200 watts and a space-efficient footprint. In addition, the new machine includes a larger filter, resulting in longer filter lifespans, and a clamping system which enables more accurate component positioning.
Special features are the water-floodable filter and the modular structure of the machine. The process chamber and handling station are physically separate and enable safe and easy component handling. All process steps take place under inert gas, shielded from external influences. The whole process can therefore be implemented reliably and with the maximum quality level.

Features
Modular system for three different build volumes
Perfectly suited for high surface quality and fine part structures
Powders available 

Parameters available 

remanium star® CL
rematitan® CL
316L
M300
17-4 PH
AP&C Ti64 grade 23 CL
AP&C CpTi grade 2 CL
AP&C Ni718 CL

Bronze
Silver 930
Gold, Yellow
Gold, Rose
Platinum
AlSi10Mg


Laser Power 

Build volume 

Fibre laser 200 W (cw)





50 x 50 x 80 mm (x,y,z)
70 x 70 x 80 mm (x,y,z)
90 x 90 x 80 mm (x,y,z)
100 x 100 x 100 mm (x,y,z)
Dental Hybrid Manufacturing solution

We are transforming the dental industry and offer with our partners Follow-Me, Datron and Fresdental a dental hybrid manufacturing solution, which combines the advantages of additive manufacturing with subtractive technology, to get the best out of both manufacturing worlds.