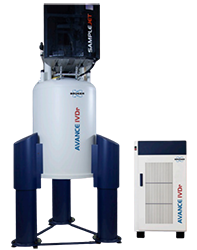 AVANCEIVDr
Pre-Clinical Screening and In Vitro Diagnostics Research (IVDr) - (for research use only)

High Throughput NMR for Development and Validation of High-Quality and Cost-Effective IVD-by-NMR research and pre-clinical in vitro Screening Assays.
Standardized nuclear magnetic resonance (NMR) spectroscopy platform enabling cost-effective, high-performance NMR pre-clinical screening and IVD-by-NMR discovery and validation (on RUO Level) of novel NMR assays. The new AVANCE IVDr system, presently for research use only, is a complete, proven and standardized platform for NMR pre-clinical research and screening, as well as for IVD-by-NMR research.