Weather Meter
They are designed to artificially recreate indoor and outdoor environments such as sunlight, temperature, humidity, and rainfall, accelerating the deterioration of products and materials for prompt prediction of their lifespan. SUGA offers a broad range of products, from the global standard weathering test instruments to the latest super-accelerating models.



The Global Standard Test Instrument
 The Global Standard Test is world wide authorized tests which are specified in ISO(International Organization for Standardization), ASTM(American Society for Testing and Materials), JIS(Japanese Industrial Standards) and other standards. The spectral power distribution of light sources and the performance of the instrument are specified in these standards. SUGA offers the weathering test instruments applicable to these global standard tests.

• Xenon weather meter : Light source resembling to the spectral power distribution in the ultraviolet and visible portion of sunlight.

• Sunshine weather meter : Light source resembling to the spectral power distribution in the ultraviolet portion of sunlight. It has been recognized in the world for over 60 years.

• UV Long-Life Fade Meter : This light source, having the longest history in the world, has a strong energy in the ultraviolet portion (around the range of 388nm).

• Ultraviolet fluorescent lamp weather meter : Ultraviolet fluorescent lamp with its peak in the ultraviolet portion.
Super Accelerated Weathering Test Instrument
As the speed of developing new products increases, the need for shortening the test period increases as well. By taking a variety of approaches to meet these needs, SUGA offers new Super Accelerated Weathering Test Instrument. SUGA is also proceeding with research for correlation with outdoor exposure test.
SUGA offers several types of instruments to weathering
Depending on the use and purpose of products and materials, other types of light sources such as fluorescent and mercury lamps are being used in various fields.
Related Units
Irradiance monitor / Pure water units /outdoor exposure device
       Supports and assures the accuracy of the weather meter. Outdoor exposure test is the foundation of the data for weathering test. Everything for weathering test starts here.
Xenon Weather Meter , Model : GX75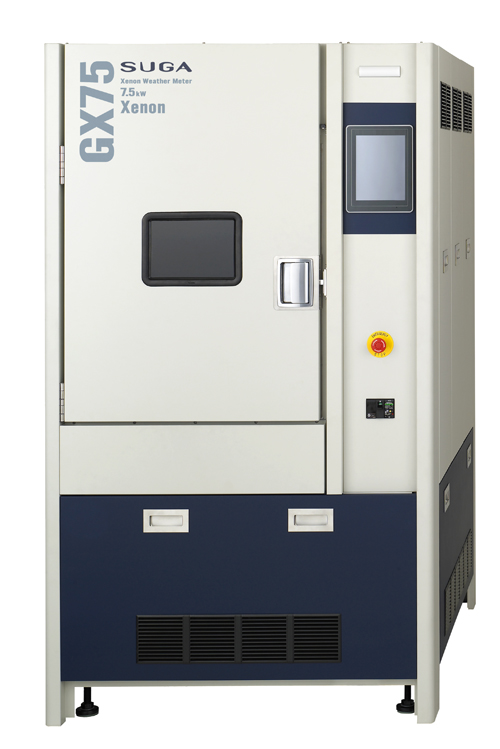 GX75 is designed to artificially reproduce outdoor and indoor deterioration factors such as sunlight, high and low temperatures, rainfall and dew. It exposes materials to these factors and accelerates the deterioration process to predict their lifespan in a relatively short period of time.
       
       The weathering technology demanded by Japanese automotive manufactures and customers from many different industrial fields have established an incomparable xenon long life irradiation system and a direct specimen-surface irradiance-temperature control system.

       GX75 promises long lasting, uniform, stable and precise tests.

UV Fluorescent Weather Meter , Model : FUV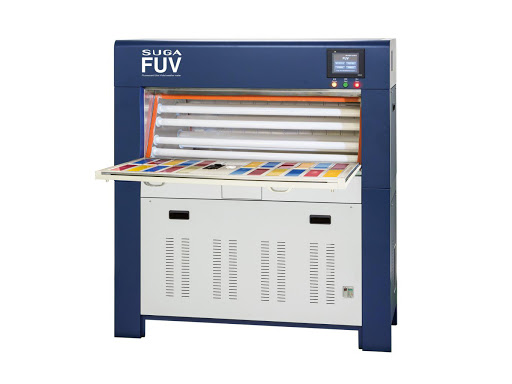 Fluorescent UV lamps are traditionally used in weathering tests for evaluating UV-induced degradation of coated surfaces such as cracks and chalking. This instrument is designed for performing cyclic tests of dark (condensation) and light tests using fluorescent UV lamps as the light source. The irradiance distribution has been further improved by optimizing the position of the fluorescent UV lamps. Along with a new instrument design, operation has been made simple and easier to use with the implementation of a touch panel controller
Features
1. The positions of the fluorescent UV lamps are optimized by computer simulation to produce an even distribution of irradiance on specimens, which has resulted in an improvement in evenness within the specimen holder from 91.7% to 97.8%, a 6% increase. This has reduced the variance in irradiation at top and bottom rows of the specimen holder, making it possible for tests with greater uniformity (compared to previous models).

2. This model is equipped with the Quick View SystemTM that allows for the user to view the condition of all the specimens in a single motion. Compared to previous models where each specimen had to be taken out one by one, this reduces approximately 90% of the time used to check the condition of the specimens (they can also be taken out one by one like previous models).

3. Test program setup, operation data recording and irradiance calibration are all contained in the color touch panel controller.