Bruker developed the MIRA - a pre-calibrated, high precision IR milk analyzer - for the needs of today's dairy industry. The system offers a cost-effective way for the quality control of milk, whey, and cream.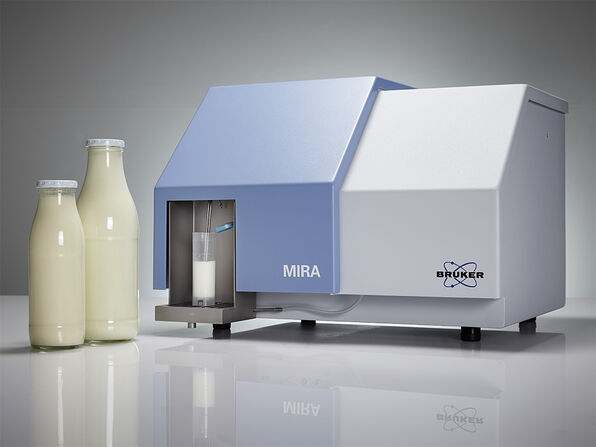 The MIRA can analyze important parameters like fat, protein, total solids and lactose in seconds. Therefore, our customers can quickly carry out required and optimized process adjustments. The high-pressure homogenizer ensures evenly homogenized samples for high repeatability and accuracy. Optionally, the MIRA milk analyzer can also determine the freezing point.
Key Benefits
The MIRA milk analyzer will certainly enable the user to carry out reliable quality control. The main benefits are:
Ease of operation
High precision and repeatability
Low cost of ownership
User-independent results
Automatic cleaning/zeroing
Ease of use
The intuitive software guides the user through the process. The MIRA milk analyzer automatically analyzes the sample in transmission after the operator selects sample type and entering sample ID.

Product specific ready-to-use calibrations are easy to adjust will generate precise results. Moreover, the user can set up dedicated calibrations for customer specific products.
Reliable Results
To prove the performance of the MIRA, we put it to a test and asked ACTALIA Cecalait − the center of expertise in the dairy sector, recognized in France and internationally − to carry out an independent evaluation of the performance of the mid infra-red analyzer MIRA. ACTALIA Cecalait concluded that the MIRA instrument provides good repeatability, stability and performance and is compliant with related ISO and IDF standards.
Moreover, the MIRA has proven to show an excellent performance on raw cow's milk using the AOAC Official Method 972.16 (Fat, Lactose, Protein, and Solids in Milk; Mid-Infrared Spectroscopic Method).
Proven Quality
More than 25 years of experience in designing solutions for the dairy industry were combined with the high quality standards of Bruker. Our systems run hassle-free in companies producing milk and milk products worldwide. This way, our customers can benefit from large cost savings.